Dementia-friendly tearoom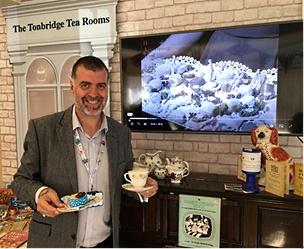 On 27 September 2021 we were delighted to welcome the Mayor of Tonbridge & Malling to open our new dementia-friendly vintage 1950s Tearoom. Forged from the old, unloved and mostly unused day room, the tea room has all the appearance of a 1950s vintage tea room. We were entertained during the day by local musician Tom Carradine and fed and watered by the salvation army. The Mayor and Mayoress later enjoyed tea in the new tea room.
New televisions and radio
In 2011 new digital televisions combined with radios were provided for the 26 beds at a cost of £24,792.
Specialist electronic beds
Patients often need specialist equipment which is not normally supplied by the NHS. An example of this was the purchase of specialist patient beds in 2009 at a cost of £3,135.
New mini van
In 2001 the League of Friends purchased a new mini bus for the Day Hospital costing £25,544. From 1984-2010 the League of Friends funded transport for patients to attend the day centre at the hospital.
Speech master
In 2003 the Rapid Response team was helped with a device called Speechmaster to help deaf patients.
Blue bell campaign
In 1999 the Bluebell Campaign started to raise £50,000 towards the furniture and equipment of new wing of the Hospital including 15 beds which was completed in 2000. In total £51,603 was raised in the Appeal. Despite the large sum of money raised for the Goldsmid wing, money was also found to buy an electric wheelchair.
Heres the full list of what we have done over the years: